Morris Bean & Company is fully equipped with the latest in simulation and modeling software, which allows us to test our setups virtually while tooling is being built. Doing this ensures the castings are right the first time, while eliminating guesswork and reducing production time.
Using software tools including AutoCAD, Solidworks, and Cimitron, we design tooling and patterns to support your production volumes, budget, and dimensional requirements.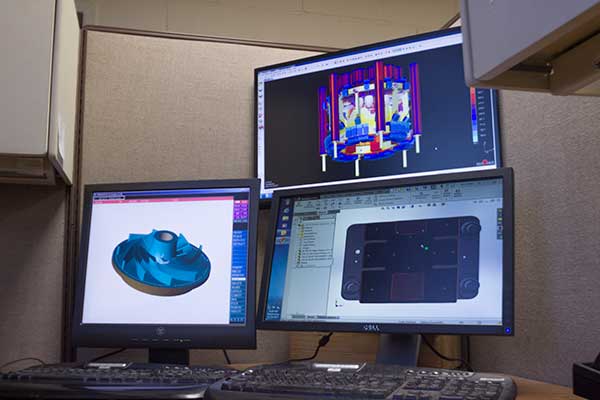 Every job that we produce is run through MAGMASOFT solidification software by a level 3 certified operator to ensure quality and increase the likelihood of success in the first round. With experienced engineers on staff and over a decade of simulation experience, Morris Bean & Company is proud to be a leader in low-quantity production simulation.
In accordance with our ISO 9001:2015 quality system, each part is organized and categorized in our ERP system so that our team can quickly identify the resources needed to produce each part. When the initial article is complete, our engineering team develops part-specific work instructions and a bill of materials for each individual part. Should questions arise, these are available to our frontline support and production staff.